Description
The device can be applied universally and used as a single station or in combination with several devices. The feeder needs no maintenance and is lubricated for its lifetime. The feeder is designed in such a way that several options such as gas-filled seals, dust proofing, and extension of spiral and outlet tubes, seals of various materials may be adopted without problems.
In designing our device, we paid particular attention to its FDA suitability. We only use seals with an FDA certificate. Steel parts in contact with the product are made of stainless steel 1.4404 (1.4435).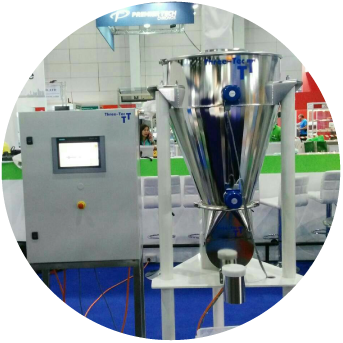 A Gain-in-Weight (GIW) batching station
Includes volumetric metering devices, such as screw feeders or valves that deliver the product to a hopper on load cells.
The Loss-in-Weight (LIW) batching system
Employs gravimetric feeding devices, such as
loss-in-weight screw or vibratory feeders, which are
mounted on individual load cells or scales. In cases
where small amounts of micro ingredients are required,
both methods may be employed: LIW feeders for
the micros and minors, and GIW batch for the major
ingredients.
Selection of applications
Food industry
Dairy powders
Flour/bakery
Ingredient/noodles
Instant drinks
Seasoning
Feed industry
Chemical industry
| | | | | | |
| --- | --- | --- | --- | --- | --- |
| Description | Model | Features | Feed Rate (L/hr) | Hopper Volume (Liter) | Feed Accuracy |
| | CMF-T18 | GIW,LIW | 12-120 | 20 | 0.1%,0.2% |
| | CMF-T28 | GIW,LIW | 50-500 | 80 | 0.1%,0.2% |
| | CMF-ZD 32 B | GIW,LIW | 50-200 | 200 | 0.1%,0.2% |
| Screw Feeder | CMF-T38 | GIW,LIW | 80-800 | 200 | 0.1%,0.2% |
| | CMF-ED 55 B | GIW,LIW | 150-2500 | 200 | 0.1%,0.2% |
| | CMF-ED 55 FB | GIW,LIW | 150-2700 | 200 up | 0.1%,0.2% |
| | CMF-T78 | GIW,LIW | 400-4000 | 200 up | 0.1%,0.2% |